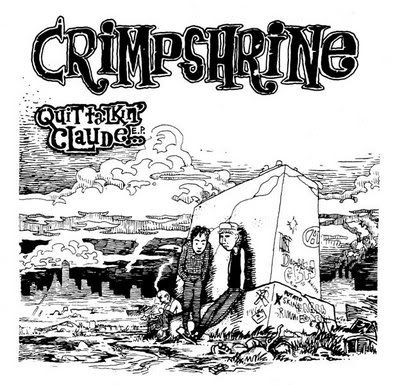 Artist: Crimpshrine
Album: Quit Talkin' Claude... 7"
Year: 1989
Label: Lookout! Records (Lookout 015)
Location: Berkeley, CA USA
Tracks:
1.) Butterflies
2.) Situation
3.) Easy Answers
4.) Inspiration
Bit Rate: MP3 320 kbps
DOWNLOAD RECORD
(320 kbps; 29.57 MB)
DOWNLOAD ARTWORK + LYRICS (Soon To Come!)
Sloppy, grimy guitar work and vocals is what's always drawn me to bands like Crimpshrine, Fifteen and a lot of the (sometimes politically charged) early east bay pop punk bands. Crimpshrine especially, tend to cheer me up on shitty rainy days and actually wanna get me going on what needs to get done. I'm sure ya'll know enough about the band so I'm not gonna bother with an introduction. If you don't know anything about 'em, look it up.